Let them eat Cake...
Well, as you can see from my lack of blog updates, I have been one busy girl. And yes, it is ALL about the wedding :-)

Speaking of weddings, and before I start on my ramble, I went to my friend Joselyn's wedding on Saturday 5th of March. It was lots of fun and although a long day, I think it was enjoyed by all. The ceremony was very sweet and the reception place was very nice. The food was pretty good, especially the lasagne! Above all though, my friend Jos looked radiant and absolutely gorgeous and her new husband, Sam, looked very handsome and in love. At the moment they are basking in the sunshine of the Cook Islands...ahhhh

Oh, and I was planning to take photos of the event but my camera's battery decided that just as I was about to photograph the bride's entrance to the church, it would
die :-( Oh well...

On another note, also on that day, I had my first makeup trial - It was so weird! You see, I hardly ever wear makeup and to wear the amount I was wearing on the day was highly unusual - I think I scared Oyvind. Hahaha. At any rate, I liked it and hope that I can look decent on the big day. Minus stress pimples though - I hate them!

Now, back tot he subject matter - Cakes!

On Sunday, Oyvind and I met with our cake lady Michelle. We went through the cake specifications and handed over a deposit...now, it is fingers crossed!
Basically, the cake will be 3 tiers, with the top tier being fruit cake for me and Oyvind to share on our first wedding anniversary.
The bottom tiers will be chocolate and vanilla marble cake with raspberry filling...yum!
The outside of the cake will look a little like: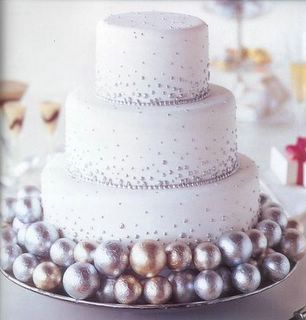 Cake - minus balls at the bottom

And the cake will be topped with cats because we love them (although I love dogs too) and because that is what we are nicknamed by my family...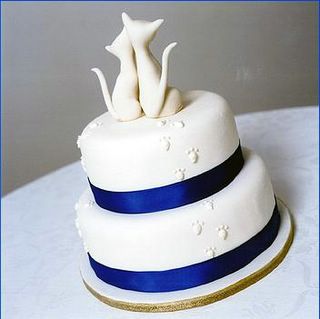 Cake Topper - Cats Only

What do you think?