Wedding Shoes!
Finally, things are falling into place!
This week I have achieved much in the way of wedding things to do. I think I have found a cake lady and I last night Oyvind and I went shopping and we found his shirt. He looks so handsome in it...
Also, without even trying very hard I found myself at Nine West and lo and behold, there was a pair of shoes that looked much like what I wanted to wear for the wedding...And here they are: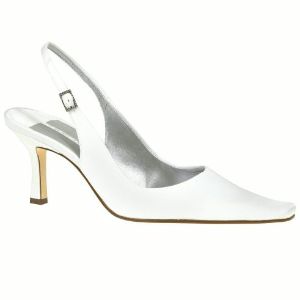 My wedding shoes

The best thing:
I found them in my size, which is almost impossible to find for some reason (I am a 6 in Aust Sizes)
AND they were half price!!!
Now, all I have to do is get them dyed (they are Satin) to match my dress a little better and voila!

Next on my list is:
- Buying hair stuff (tiara or whatever)
- Organising makeup trial and hair trial
- Buying clothes for Fiji (need to get a new bikini and ahem, other clothes)

Tomorrow I have my kitchen tea party being held at my mum's house. It should be fun to have a whole bunch of crazy ladies around me and this is made even more special because my dear Pipstar is making a trip up from Canberra to come to the party and she will also stay over. Lots of catching up for sure!