The Cello
Gatillo and I were watching 'The Pianist' last week and we both thought that this is a very good film. The music is beautiful and there is one scene in the film where one of the supporting characters is playing the cello. The piece she is playing, I later found out, is "Cello Suite No.1 in G, BWV1007: I. Prelude" by Bach.
This piece is so beautiful! I have heard it many times before but I don't know, this time it struck a chord (excuse the pun).
This weekend I looked at a few music shops for the Jacqueline du Pre recording of this piece "The Early BBC Recordings 1961-1965 ~ Bach, Britten, Brahms, Couperin, Falla, Handel / Kovacevich, Lush, Pleeth".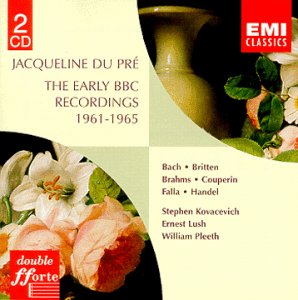 Ivonne's most wanted


No luck though :-(
I'll keep looking and hope I get lucky in not too long...